Author: Blog Monster Doug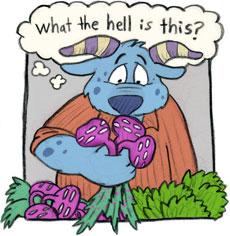 I have to admit it. I like weird vegetables.
To keep things in perspective, my vegetable vocabulary is limited so most things outside the norm seem exotic – walking through a farmer's market, for me, is something akin to entering the Star Wars Cantina only with a lot less hive of scum and villainy and a lot more carrots. Also the markets let in droids. They're cool like that.
Working with ingredients like celery root, dandelion greens and rainbow chard may seem mundane to some but they make me feel like a culinary Indiana Jones.
Partly, its due to my predilection for fun food. I have fresh pasta making totally down and I can credit that mostly to its technical similarity to using the Play-Doh Fun Factory.
Peculiar produce aside, I've been surprised at the techniques and motivations around cooking that have arisen as I've been fumbling more and more in the kitchen. It turns out that it's not about the food.
Learning to cook monster style
Figure A
Step 1: Invite 4 or 5 friends over for an overly elaborate and ambitious menu that you have never made before (involve at least one or two strange vegetables).
Step 2: Make sure to clearly state when dinner will be ready so your guests will arrive on time.
Step 3: Even though you KNOW you gave yourself enough time, have dinner like maybe 60% done when people arrive. Dinner guests should walk into something resembling Figure A with wine in hand.
Step 4: All parties involved should start consuming said wine as soon as possible (very important).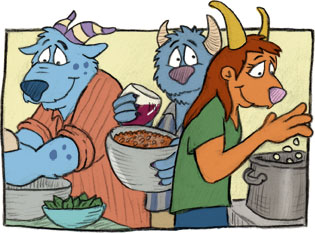 Figure B
Step 5: Let those that want to cook help you out while others watch or relax. Repeat Step 4 and talk and laugh while your awesome "Cool Music" mix plays mostly 90's songs. Your kitchen should be full of wonderful people chopping and stirring and telling stories. Realize that it isn't so bad that dinner was not ready on time because THIS was what you really wanted anyway. See Figure B.
I've found cooking to be better as a shared experience. I'm still just a beginner and its inspiring to cook with those that know what they are doing and fun to muddle through with those that don't.
Its also much more rewarding to share what you make. Cooking is a creative act that deserves an audience.
One night not so long ago I invited some friends over for dinner. Things were running late and while I cooked one friend helped me and another played the Wii and another worked on an article. We were all doing our thing, happy and content to be where we were, knowing soon that we would be sharing a meal together. I really cant explain it, but that was a wonderful moment that I will always remember.
And that is why I cook.
---
POSTCRIPT
The original version of this post had some space aliens nicely worked in at the end but that ending got changed and sadly they were no longer needed.
Still, I wanted to draw them so here they are. If there is one thing I know, this blog always has room for space aliens.
3 Responses to "The Allure of Strange Vegetables or Why a Monster Learns to Cook"
Leave a Reply
You must be logged in to post a comment.