Author: Blog Monster Doug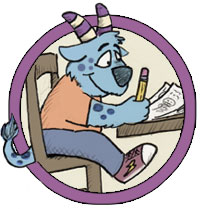 I recently unearthed a monster-laden story I wrote and illustrated when I was in second grade which, uncharacteristically, brought back quite strong recollections of my childhood.
I have a vivid memory of sitting in my fathers office the night before the tale was due feeling a tremendous pressure to create something truly great. The previous year I had won an award in the same writing contest that this was meant for — obviously the expectations from my classmates, not to mention the media, would be huge. To top my earlier story, whatever I wrote had to be a work of unfathomed genius. So after waiting and waiting until the last possible moment I wrote and drew in a frenzy and as the story increasingly crescendoed into chaos and destruction I was sure that I was creating a tale like no other.
Once written, I became certain that when read aloud to my class this story would BLOW THEIR MINDS. Counselors might need to be called in for the traumatized. Perhaps later, the weaker kids might be found walking aimlessly with dazed and haunted eyes. This wasn't my problem though; my job was to shock and awe.
This is my first memory of a lifetime of somewhat unrealistic expectations.
I named my tome "It happened," which I felt contained in its simplicity the true weight and horror of the story within.
Unfortunately, once read aloud, the story's reception was tepid at best. I've blocked out most of the memory but I can only assume I was dumbfounded by the unmoved and unfavorable reaction of the masses. Had it been an older class there might have been calls to add an "SH" to the beginning of the title.
Yet despite the failure, here it remains. A voice from my seven year old self trying both to impress and destroy the world.
I present to you, not heard since it was read aloud in Room 13 of Mrs. White's second grade class, my first failed epic:
IT HAPPENED
On the coast of Norway in 1820, there was a little town called Pittville. In Pittville there was a little grocery store. There, lived a family called Hoffman.
Once Mr. Hoffman wanted to go boating. While he was boating, he seemed to hear a strange bubbling noise. He thought it was a whale. So he threw his harpoon. A direct hit! But it wasn't a whale he heard. It was some kind of giant squid! He grew very scared. So he paddled to shore. He warned everyone about it. So no one ever went there again. For years and years, no one ever went there again.
But one year there were five non-believers. So they went to sea. But soon they realized they were surrounded by monsters!
The men soon died. One monster looked like a giant Pterandon. Another had big bulgy eyes with horns all over his head. And another had big ugly hands and his face was all covered with fur.
Just then, the earth began to shake! A huge monster came thumping out of the ground. The whole town ran. This monster had one bulgy eye and one giant horn and his body was all green. The huge monster killed most of the people. But some got away. The town was deserted. The huge monster left and never returned; nor did the other monsters.
The town was deserted for ten years. Then the people started coming back to their homes. They rebuilt their town and never heard from the monsters again.
8 Responses to "A Voice From the Past or
Dispatches from a Young Monster"
Leave a Reply
You must be logged in to post a comment.