Author: Blog Monster Doug
I did not kill the dog.
This is very important and I need to make it clear right away.
I don't want you reading the title and seeing the pictures and assuming Blog Monster Doug is this horrible dog killer. I'm not. I didn't kill the dog.
While I'm doing disclaimers I might as well warn you that this story doesn't have much of a conclusion. Also, as you might expect, it's kind of sad.
I'm glad you are still with me though because I do want to tell you what happened:
I was driving my usual route home from work — I've done this drive like 1000 times so I'm on autopilot. It's a fairly residential area but there is a stretch that has six lanes of traffic so people drive pretty fast even though the speed limit is 30 mph. There are three cars in front of me, each in their own lane, getting out in front of the pack. They are speeding.
Then comes the dog.
This friggin dog.
This little white dog.
And it's running really really fast. I have no idea what would make it run so fast. Why the hell would it run so fast? I see it bolt from the safe long grassy median strip straight into the path of the three cars.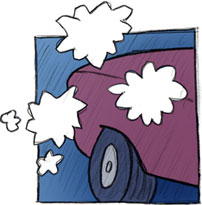 And now it's all slow motion. It makes it past the first car and then the second. I cant believe it makes it past the second car, it's unbelievable, it's still running and I'm thinking maybe it will actually make it, the third car has got to slow down or swerve or something but it doesn't and suddenly there is this explosion of white fur. I didn't think there would be fur like that. It's like the car hit a pillow or a chicken. I am screaming.
And the car just keeps going. It just keeps going and now I am passing this mound in the road that used to be a little white dog. I am furious. I speed up because I need to catch the driver. I must find this monster who kills dogs and doesn't stop.
Soon the car is at a light and I'm pulling up along side it. I don't know what I'm going to do — I'm all anger. I'm ready to hate, to judge, imagining the worse possible person — someone laughing on their cell phone or, like, dancing to music — and I look over and there is this women and she is leaning against the glass with her head in her hand in a posture of such sadness and trauma that I am taken aback. Her face is covered but everything about her looks so shaken and upset and raw that I turn away because feel like I am intruding on something deeply personal. The light changes. This all seems to happens in seconds.
I'm not letting her off the hook. She should have stopped. She is not excused no matter how she reacted but I could no longer hate her.
Later as I replayed my brief glimpse of her it occurred to me that maybe she hadn't been covering her face in grief. MAYBE she was just covering her face. Did she see me trying to catch up and look at her? I'll never know.
For a while all I can think about is what happened. I am filled with this sadness and melancholy that I cant shake. I spend time just sitting and thinking about this damn little dog. Obviously no one wants to see anything killed, but it was more than the loss of life that bothered me and I tried to think about what that was.
Dogs are of course amazing creatures for all the love and affection they give but there was something else that occurred to me. Dogs are an incredible RECEIVER of love. I think people have so much love to give, that they need to give, but it's so unsafe to love another person. The motivations of people are so incredibly convoluted and hidden. Was that women in grief or just trying to hide? Within moments she fluctuated between monster and human.
A dog is safe. There is no ambiguity. It will take love without reservation — there is none of the insecurity and fear and pain that are the costs of loving another person.
I think I was so sad at the loss of that love along with the loss of the dog. The unseen owner who had one less piece of the world to love unreservedly.
---
POSTCRIPT
Thanks for reading — I really do appreciate you letting me tell you my story. I have fallen behind with updates but there will be more regular posts which will include cheerier fare such as space penguins, pizza monkeys and perhaps a few sock puppets. I hope you will come back because I do have more stories to tell.
8 Responses to "The Dead Dog Story"
Leave a Reply
You must be logged in to post a comment.