Author: Blog Monster Doug
This post was going to be about my battles with Procrastination Monkeys but I put off doing it for so long that I decided to write about something else.
I did like my Procrastination Monkeys drawings though, so even though this post is not about them I thought I would share the pictures along with some brief notes so you know what they are.

Flying Pizza Monkeys

All I have to do is pick up the magic phone and these guys bring me awesome pizza. It's always a battle to resist their siren call. Once they arrive, most things get put aside.

The Sofa Sasquatch
This behemoth keeps me from doing what I should be working on and yet is a constant reminder of what I'm not accomplishing — making whatever fun or relaxing activity I am using as an escape totally stressful.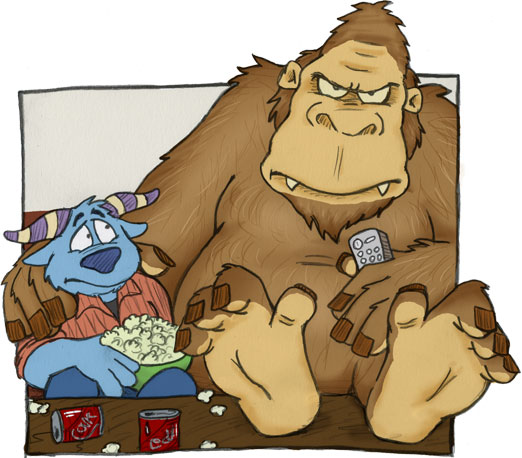 Copilot Space Monkey
This is my shipmate while I drift of to space and watch my life go by. I need to be careful as I can easily just orbit my own life while the apes take over and before I know it my metaphorical Statue of Liberty is buried waste deep in the sand.
This isn't a post about Procrastination Monkeys — I decided not to do that. Its not good to dwell on them anyway.
There are so many more wonderful creatures all around me to play with and I'm glad to say that I've been trying to hang out with them more and more.
4 Responses to "This is Not About Procrastination Monkeys"
Leave a Reply
You must be logged in to post a comment.