Author: Blog Monster Doug
I like to sculpt demons. I try to personify those forces which many times lead me in directions I shouldn't go. There are some big names for sure (Fear, Regret, Willful Ignorance, etc.) but also hundreds of smaller ones that deserve their due.
Working with this metaphor, it's important for me to remember that the demons want to help – they are not evil – they just give really bad advice.
When I try to write and the incredible frustration kicks in, it DOES feel better to stop and check my email or surf the web or read or eat pizza or watch a movie or do the millions of other distractions my writing demon is jumping up and down and telling me to do. In fact, doing these things instead of writing is usually an incredible relief. So in that sense, this guy has totally got my back …he's looking out for me.
Although it seems obvious that this is a bad strategy to follow, it remains one that I fall prey to quite often, letting this little demon lead me astray.
For better or worse, I have no choice but to get used to the idea that he isn't going anywhere and hope that I can have fun with him while still writing all the things that I have to say.
A GUEST DEMON
I made this Writing Demon for my good friend William. His poetry and prose are beautiful. He gave me some specifics as to what his demon looked like and has graciously allowed me to share it with you. It is covered in the poetry and prose written in his younger days.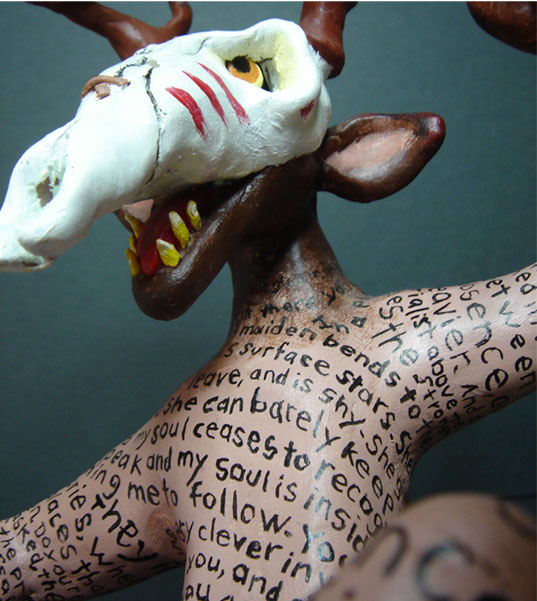 No real conclusions, just some demons that I wanted to share. There are plenty more I have hanging around that would love an audience. 🙂
Warning
: count(): Parameter must be an array or an object that implements Countable in
/webroot/d/o/dougd001/dougdworkin.com/www/monsters/wp-includes/class-wp-comment-query.php
on line
405
Leave a Reply
You must be logged in to post a comment.